Anime at Fathom Events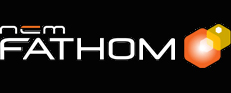 I caught the Fathom Events showing of "Sword of the Stranger" the other day. Man, there's just nothing better than watching anime on the big screen. Also, the fact that you're watching what is no doubt a quality "cinematic adventure" with a bunch of like-minded otaku makes the experience that much better.
I was talking to some co-workers about how I was excited to go to the movie and they had no idea it was going on, which made me realize there were a lot of people out there that hadn't heard about Fathom Events. So here's the skinny…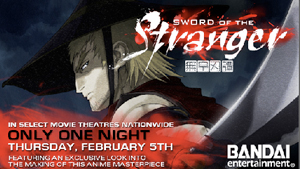 Fathom Events is the entertainment branch of a large theater advertising company so they have access to thousands of theaters all over the country. They use this access to show events like live streaming video of the New York Metropolitan Opera, Concerts, Sporting events, and thankfully, Anime.
As far as the anime events go, they show what is normally a popular movie, or movie based on a well known series. I've seen the "Death Note" live action movies, "Bleach: Memories of Nobody, and now "Sword of the Stranger" at different events. The cost is usually between $10-$13, which seems like a lot, but I pay it gladly to catch a quality flick in a theater setting. Also, the films include an after the movie special feature with interviews with the cast or crew. Behind the scenes stuff generally.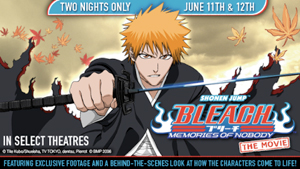 Watching anime in a theater is awesome. The conversations you have before the movie with the people around you are great because everyone "gets" you, and they get the culture you're interested in. They laugh at the obscure references and jokes that only otaku understand, and sometimes you get great info on places to check out for good Japanese food, or a new anime store.
Have you been to a Fathom event, what did you think? And if you haven't, go check it out, even if you've already seen what they're showing.
Image Credit: Fathom Events